Sloane Hayes
Appearances
Season(s)
1
First seen
"Pilot"
Last seen
"Moving Screen"
Appeared in
7 episodes (see below)
Mentioned in
Biographical Information
Born
Title(s)
The Mom
Devil Girl
Physical Information
Status
Alive
Age
Late 30s to Early 40s
Gender
Female
Hair Color
Brown
Eye Color
Brown
Skin Color
Brown
Familial Information
Spouse
Pete Davenport
Children
Ahsha Hayes
Affiliation
Occupation
Former Devil Girl

Director of the Devil Girls

Home
California
Loyalty
Devil Girls (formerly)
Portrayed By
Actor
Kimberly Elise
Sloane Hayes is a major character in the first season of Hit the Floor. She once was a Devil Girl, and was working hard so that her daughter wouldn't follow her footsteps. She is played by Kimberly Elise and debuts in "Pilot". She was the girlfriend of Pete Davenport and mother of Ahsha Hayes. When she and Pete separated, Sloane found out that she was pregnant. When she had Ahsha, she tried hard to keep Ahsha away from the "Devil" lifestyle. Sloane is now a supporter of Ahsha as a Devil Girl.
Personality
Edit
Sloane is sharp-tongued, strong-willed, and loving. She always watches over her daughter.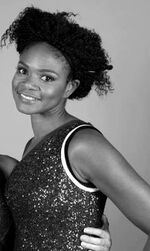 Once a talented dancer, Sloane was a Devil Girl and is determined that her beloved daughter Ahsha follow a different path--something away from the flash and danger of the world she left behind.
Furious when Ahsha blows off a job interview to audition for the Devil Girls, Sloane is resigned to Ahsha's dream and winds up supporting her as she makes her final bid to be on the team. Rightfully worried about Ahsha's ability to maneuver amid the sharks on the Devils, Sloane tries her best to protect her -- but she can't be with her 24/7. (Pilot)